Free Online Career Training & High School/College Test Prep
If you are getting ready to take your OGT, ACT, SAT or ASVAB tests, don't forget about practice tests that are available through Ohio Means Jobs: Learning Express Library. Statistics prove that taking practice tests can decrease test anxiety and improve your scores on these important exams. Click here to start taking exams! We also have study books that can help prepare you for the tests. We have materials on writing college entrance essays, preparing for college and how to find money for college.
All of these aids are available for check out to use at home.
Now powered through OhioMeansJobs.com.

If you create an account through OhioMeansJobs.com's backpack feature,
you will be able to remember data and keep track of all training assessments and test scores.
View practice questions for the written portion of these exams: driver's license, learner's permit, CDL or motorcycle license.
Get hints to help you remember the correct answer; easily keep track of your correct answers and score.
Trouble reading? Try the read-aloud, zoom and translate features.
CALLING ALL TEENS! Afterschool Volunteers Needed!

If you are a teen aged 13-18 and would like to earn volunteer hours at the library, come on in and join our Teen Volunteer Group!
We need volunteers in several areas. We can accommodate your schedule and work in as many hours as you would like.
All teens are welcome!
Bored? Looking for something to do?
Check out the e-resources page of our site!
There are many educational resources anything from
car repair to crafts and hobbies that you can access.
If you have a library card you can check out
digital materials with the Libby app on your device.
Need a library card? Just email us and we will get you reading!
You may also access our Wi-Fi to download your digital materials
(no password needed). Just know that we are here to help.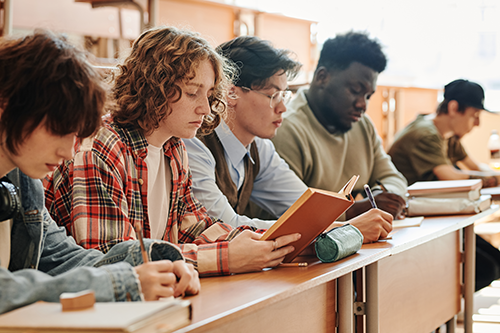 Ohio Attorney General Introduces Online Student Loan Resource Center
The office of Ohio Attorney General Mike DeWine has developed a comprehensive online Student Loan Center to help prospective, current, and former college students understand and manage student loans. The Attorney General's Student Loan Center, http://www.OhioAttorneyGeneral.gov/StudentLoans, contains information and resources to explore careers, choose a school, apply for student loans, and repay loans.
Library staffs may want to refer customers to the site's resources and tools to help consumers make smart borrowing decisions. It provides tips on how to reduce the cost of attending college, and offers two calculators to help students budget their expenses and plan their loan repayment.